The BFITS Education Program provides our young students with a modern curriculum to develop the enjoyment of, and commitment to learning by means of engaging and stimulating activities.
We build on student strengths, interests and experiences and develop their confidence in their capacity to learn and work both independently and collaboratively, to promote an enquiring mind with the capacity to think critically.
TEACHING IN THAILAND WITH BFITS
School in the BFITS Network
BFITS provides Native English speaking teacher to over 30 programs in 25+ private and government schools throughout Thailand.
Full time Teachers with BFITS
BFITS connects dedicated and enthusiastic native English speakers from around the world who have a passion to teach the youth of Thailand.
Thousands of Possibilities Await
The opportunity to teach in Thailand opens up 1000's of possibilities for amazing adventures. Working with BFITS makes those dream a reality!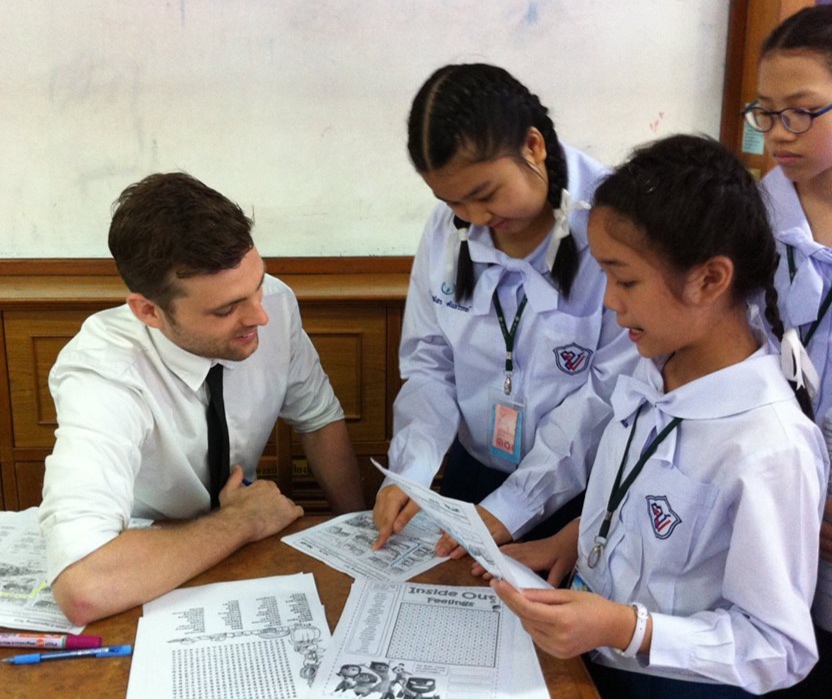 We equip our students with the necessary language skills of speaking, listening, reading, and writing for effective communication. In addition, we teach essential learning skills of literacy, numeracy and technological capability through the study of English, Science, Mathematics and Information and Communication Technology (ICT).
We prepare students to be globally competitive. We shape future leaders and success stories by cultivating real world skills through comprehensive curriculum and modern instruction by quality teachers.
AT BFITS we pride ourselves as being industry leaders in English education dedicated to delivering effective programs that prepare learners for the modern global community.
ENGLISH PROGRAM TEACHER (EP)
Also known as EP, is a program designed to provide Prathom and Mathayom students with an academic environment of primary and secondary subjects. The EP Program primarily focuses on Math, Science and Grammar/Literature. Secondary subjects would include Social Studies, Health, Digital English and ICT. This program provides students with a complete English environment refining their listening, speaking, reading and writing skills and applying these skills in real-world situations.
INTENSIVE COMMUNICATIVE ENGLISH PROGRAM (ICEP)
Is designed for students at all levels of Prathom and Mathayom aiming to develop and improve their practical and academic English communication skills. ICEP is focused on speaking and listening, and students also spend time on grammar, reading, and writing. BFITS offers 3-hour ICEP which delivers the core curriculum and 5-hour ICEP with additional reading SRA and Language Arts. These programs provide students the opportunity to practice their skills with Native English Speaking teachers using western resources and technology for instruction.
BFITS is an academic organization that provide Native English speaking teachers to 24+ schools across Thailand:
-> Central Thailand (Bangkok)
-> Northern Thailand
-> Northeastern Thailand
-> Southern Thailand
BFITS is here as your support system in starting your new teaching adventure and through your employment in our Network Schools. BFITS employs its teachers directly during the entire time of your contract. Which means we have a dedicated teams working for you from your initial interview, placement at school, visa and work permit support team, ongoing professional development training, curriculum management team and more. We support in getting great teachers into the classroom and provide ongoing support out of the classroom.
OUR EDUCATION ProgramS
Become a BFITS teacher working in one of our Programs. Our EP teacher specialize in teaching subjects; Math, English, Science, Computer Science or Kindergarten. Our ICEP teacher specialize in teaching conversation English to our students.
JOIN BFITS TODAY
Start your Thai Teaching Adventure Today with
BFITS Thailand!
Our teachers experiences
Our teachers come from all over the world to teach specialized subject in English to our Thai Students. Our teachers use their unique perspectives on life and teaching philosphys's to prove the best education to our young learners. While enjoying the EXPERIENCE OF A LIFE TIME!